If you have been following our Sportive Training Plan the week before your sportive features light training and therefore more spare time; use the time wisely to go through this sportive checklist.
Sportive Checklist: Bike Check
Drop your bike into your local bike shop a week or so before your event or do a service yourself:
[unordered_list style="tick"]
Check all nuts and bolts on the bike are tight including the quick release levers
Check the chain for wear and tear
Replace the brake pads so that you have enough for any long descents
Clean the bike thoroughly, lube the chain and oil the deraileurs
Treating yourself to some fresh handlebar tape before the sportive will not only increase comfort but also give a nice psychological boost
[/unordered_list]
Sportive Checklist: Route Plan on Stem
Write a summary of the route plan and stick it on your top tube or stem, it should include distances marking important aspects of the climb such as the start, finish and altitude of climbs and where the feed stations are.
Sportive Checklist: Raid the Charity Shop
You will probably start early in the morning when it might be cold as you wait around in the start area; if you have some old scruffy tracksuit bottoms and a jumper you can wear these at the start to keep warm and then jettison them at the last minute or give them to friends in your support crew.
Sportive Checklist: Saddle Bag Contents
[unordered_list style="tick"]
Inner tubes x2
Co2 canisters x 2
Multi tool and tyre levers
Cash and a credit card
ID, insurance card and contact details in case of emergency
Camera phone for taking pictures en route and contacting supporters or riders after the race
[/unordered_list]
Jersey Pocket Contents
Do pack some hydration tablets, gels and solid food for the race as per your Sportive Nutrition Plan in case feed stations run dry.
Don't over stuff your jersey at the start – make sure you leave room for your waterproof, arm warmers and other layers you might wear at the start.
Cycling Sportive Packing List
It's important to prepare for all potential weather possibilities and this Cycling Sportive Packing List will help you avoid forgetting the essentials.
Bike Box Packing Tips
If you are travelling to an overseas sportive then check out these Bike Box Packing Tips from our partners Bike Box Online:
Tapering for a Sportive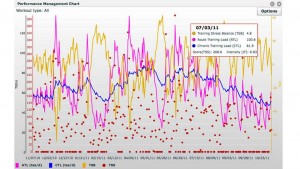 It's really important to trust the sports science advice and taper in the week before a sportive. If you are tempted to chuck in extra panic training stations then resist the urge.
Uploading all your training sessions in Training Peaks and using the Performance Management Chart is a great visual deterrent to overtraining – you can literally see the difference in your predicted fitness as you fine tune your final training sessions.
Rest and Recovery
With all the focus on the big day it might seem strange to be thinking about Rest and Recovery – but going over these simple principles can help you make the most of your taper week.
[divider_flat]
Sportive Training Plan
Are you in training for a sportive? Use our free 12 week Sportive Training Plan to get you in the best possible shape for your sportive challenge. Simply fill the form below and we'll send you your free training plan: