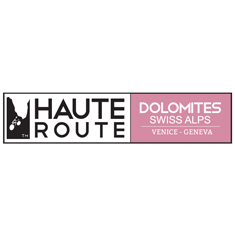 Haute Route Dolomites Swiss Alps 2014
We are delighted to announce that Brevet now offers our legendary Pro Support for the highest and toughest cycling challenge out there – the Haute Route Dolomites Swiss Alps.
The Haute Route Dolomites Swiss Alps is a seven stage timed cycling event with rolling road closures and full professional support. It's the closest you will get to the experience of riding in a Grand Tour.
With our support you'll take on the highest and toughest cycling challenge in the world:
Brevet are specialists in Swiss Alps cycling holidays , we only offer one trip outside of
Switzerland and that is to the Maratona dles Dolomites, a sportive too beautiful for us to resist!
Our expert local knowledge of the Swiss Alps and Italian Dolomites makes us the perfect choice of partner in your quest to complete the Haute Route Dolomites Swiss Alps.
Haute Route Dolomites Swiss Alps 2014
After launching the Haute Route Alps in 2011 and Haute Route Pyrenees in 2013, the trilogy has been completed with the 2014 launch of the Haute Route Dolomites Swiss Alps.
The Haute Route Dolomites Swiss Alps route follows the established format of Haute Route adventures, staring in the beautiful city of Venice on the Adriatic coast and taking in 17 mythical cols.
Just like in the Haute Route Alps and Haute Route Pyrenees, an individual time trial up the 48 hairpin turns of the Passo Stelvio is sandwiched between two marathon stages. To complete the Haute Route you will need to climb over +19,000m in seven timed stages over 880km.
Haute Route – Stage Guide
Stage 1: Conegliano – Cortina d'Ampezzo
Distance: 123km +2,600m
Cols: Passo San Boldo (706m), Passo Giau (2,236m)
Stage 2: Cortina d'Ampezzo – Merano
Distance: 137km +2,500m
Cols: Passo Falzarego (2,117m), Passo Pordoi (2,236m), Paso di Costalunga (1,745m)
Stage 3: Merano – Bormio
Distance: 151km +4,000m
Cols: Passo delle Palade (1,518m), Passo del Tonale (1,884m), Passo di Gavia (2,652m)
Stage 4: Bormio – Passo dello Stelvio
Distance: 21km +1,550m – Individual Time Trial
Cols: Passo dello Stelvio (2,758m)
Stage 5: Saint Moritz – Andermatt
Distance: 170km +3,600m
Cols: Julierpass (2,284m), Lenzerheidepass (1,549m), Oberalppass (2,046m)
Stage 6: Andermatt – Crans-Montanna
Distance: 142km +3,000m
Cols: Furkapass (2,436m), Bratschpass (1,092m), Crans-Montana (1,500m)
Stage 7: Martigny – Geneva
Distance: 133km +1,650m
Cols: Pas de Morgins (1,369m), Col du Corbier (1,230m)
Can I Do It?
If your appetite is whetted then the next question on your mind is "Can I do it?"
The answer is yes – but you'll need to train consistently and specifically for the Haute Route and you'll need first class support off the bike.
After three years experience the organisers are able to paint a realistic picture of whether or not the Haute Route is right for you.
Haute Route Pro Support
Riding the Haute Route is as close as you can get to riding a Grand Tour in the pro peloton.
The secret to completing the Haute Route is to eliminating all possible sources of stress, nervous tension and energy draining logistical concerns. Our Haute Route package is designed to enable you to focus on the daily routine of ride, recover, rest.
To complete Haute Route Dolomites Swiss Alps you need the help of our Pro Support package.
All Inclusive Cycling Holiday – You Just Need to Pedal
Haute Route entrance fee included
10 day cycling holiday
9 nights in superior hotels close to the finish line
Nutritious all you can eat healthy breakfasts
Brevet Pro Support during the stage
Daily recovery massages
Nutritious evening meals
Private airport transfers for bike and rider
Your Haute Route Entry Fee includes everything you'd expect and more from a Fully Supported cycling challenge.
Our Pro Support benefits go that extra mile so you don't have to:
Haute Route Dolomites Swiss Alps – Pro Support
Pre-Stage Briefings

Comprehensive Pre-Stage briefings
Digital Road Book to study in advance
Weather forecast and clothing advice

Brevet Team Car Support

Brevet Team Car support at designated feed stations
Resupply with your preferred nutrition and hydration products
Store spare layers in the Brevet Team Car and adapt to the conditions during the stage
Spare tubes, wheels, brake pads, sunscreen and chamois cream
Invaluable real time course advice

Post stage hospitality

Your preferred recovery drink and snack waiting for you
Your essentials bag waiting for you
A warm welcome at the legendary Brevet Clubhouse!
Daily laundry service
Daily post stage massage from the Brevet Soigneur
In 2015 the riders will take on a giant of the Central Swiss Alps – The Furka Pass 2,436m

At 2,758m Passo Stelvio is the highest point in the Haute Route Dolomites Swiss Alps 2015
This is the life changing adventure you've been searching for.
It's going to take commitment, sacrifice and planning.
It will be worth it.
We'll take care of the hundreds of little things that unsupported riders will have to deal with.
You'll be free to concentrate on immersing yourself in 7 of the best days of your life.
We Will Go The Extra Mile For You.