The importance of rest and recovery for cyclists can not be over stressed, combined with following the guidelines for proper nutrition for cyclists, it could be the crucial difference in your training plan.
In the Principles of Cycling Training we cover the training principle of "overcompensation" discussing how the body rebuilds itself and gets fitter and stronger after each training "stress". Gaining fitness through overcompensation only works if you give the body adequate time to recover and rest and give it the right fuel before, during and after exercise.
If you're tempted to train on a rest day remember the mantra "resting is where the fitness happens".
Recovery Tips – Five Steps to Recovery Faster
[twocol_one]
Hydrate: Leave a recovery drink chilling in the fridge; you'll look forward to devouring it after the ride
Stretch: Long stretches of each muscle group for 20 seconds will help flexibility
Self massage: Simple self massage can help flush out toxins and help muscle recovery
Compression: Compression tights can help reduce soreness and speed recovery
"Computer Says Rest": Sometimes your body will be sending you a strong signal to rest but you may try to ignore it and keep the plan on track. If you don't feel up for a planned session and still aren't feeling good 10 minutes into the session then turn around and head home; it could be the body sending you an early warning signal.
[/twocol_one]
[twocol_one_last]
[/twocol_one_last]
[divider_flat]
Sleep Your Way to a Fitness Peak
So if "resting is where the fitness happens" – how much rest is enough? Am I overtraining? Or being to easy on myself?
Take away the guesswork by using the Performance Management Chart feature from our Partners TrainingPeaks. You can plan your training loads so that you get enough rest and recovery.
Simple Nutrition for Cyclists
[twocol_one]
There's no real need to have a complex diet, we instinctively eat more healthily as the training load increases. Follow these simple tips to keep your diet on track:
Calorie deficit: Losing excess fat will help your ride faster, the simplest way to do that is to ensure you use more calories than you consume every day
Everything in moderation: The old fashioned advice works; plenty of colours on the plate, more veg than meat and as little packaged or processed food as possible
Eat fish: If you change one thing only, then eat more fish; the natural oils are hard to find in other meals and they are especially useful for oiling the chain that is your body during a period of increased training
Protein: Muscles need protein to repair the damage done during exercise, prepare a snack and place it in the fridge before your ride so you can immediately replace protein, easy sources include protein bars, protein shakes, egg whites, cottage cheese, tuna and fruit
Shop to a plan: Having plenty of healthy stuff in the fridge is half the battle; online shopping and/or going to the shops with an old fashioned list of items for a 7 day meal plan can help you reduce "on a whim" purchases
[/twocol_one]
[twocol_one_last]
[/twocol_one_last]
[divider_flat]
Cycling Nutrition Books
Here's our recommended further reading if you want to learn more about what to eat and when to eat to get lean and powerful on the bike!
[twocol_one]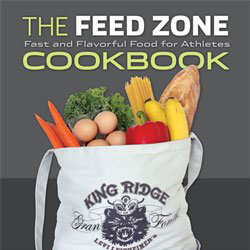 Feed Zone Cookbook deserves a place in any endurance athletes kitchen, check out these quick nutrition tips and buy your copy.
[/twocol_one]
[twocol_one_last]
Book Review: Racing Weight by Matt Fitzgerald is essential riding for cyclists who want to reduce fat and increase lean muscle.
[/twocol_one_last]
[divider_flat]
Sportive Holidays with Brevet
If you plan your training carefully and allow time to rest and recover you could aim for the ultimate test – riding a sportive in the Alps!
Here at Brevet we are specialists in sportive holidays in the Swiss Alps and Italian Dolomites:
[threecol_one]
[/threecol_one]
[threecol_one]
[/threecol_one]
[threecol_one_last]
[/threecol_one_last]
[threecol_one]
[/threecol_one]
[threecol_one]
[/threecol_one]
[threecol_one_last]
[/threecol_one_last]
[divider_flat]
Sportive Training Plan
Are you in training for a sportive? Use our free 12 week Sportive Training Plan to get you in the best possible shape for your sportive challenge. Simply fill the form below and we'll send you your free training plan: