We recently hosted Don and Becky as they swapped cycling in the Blue Hills around Boston, Massachusetts for a Brevet Bespoke Alpine cycling tour in the Swiss Alps.
Alpine Cycling Tour
As big European cycling fans Don and Becky were keen to ride on roads with history and where better to start than the Col des Mosses and Col du Pillon. The Col des Mosses has featured regularly in the Tour de Romandie, the most prestigous cycling race in Switzerland.
The Côte des Voëttes provides a great warm up ride as you climb out of Les Diablerets, the views of the Diablerets massif behind are quite incredible. After this first tough climb the gentle gradient up to the top of the Col des Mosses (1,445m) is refreshingly easy.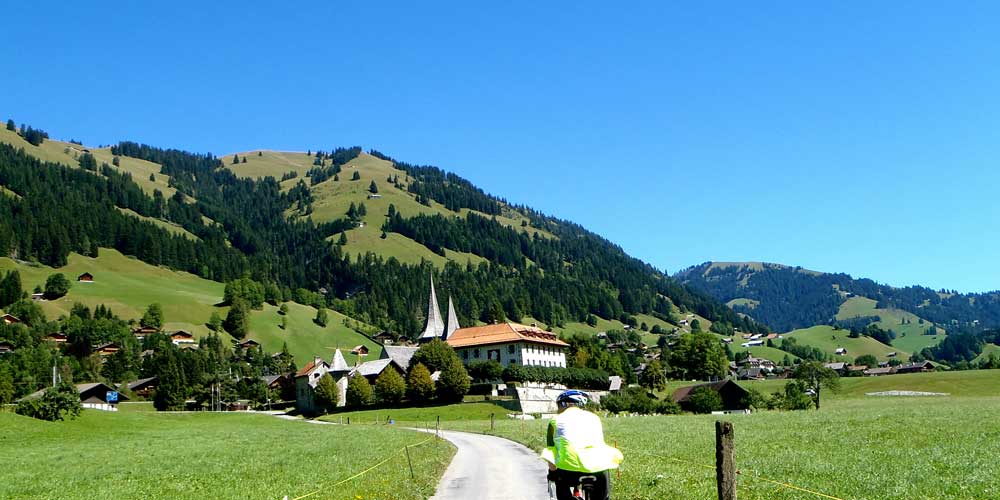 [quote]The riding was exceptional. Rides were well thought out and the views were out of this world.[/quote]
Don, Château Rougemont, Switzerland
After a stunning descent that includes hairpin bends and wide open flowing corners we emerged into stunning Swiss scenery, with the Château de Rougemont which dates back to 1569 just one of the highlights.
Our tour in the Swiss Alps was completed with the ascent of the Col du Pillon (1,546m);
[quote]Tom is a teriffic guide. Well orgainized, good local knowledge, very flexible. I recommend him very highly.[/quote]
Becky, Col du Pillon, Switzerland
As the temperatures climbed and the calories burnt tipped the 2,000 mark we were rewarded with the sight of a "Climb Finished" sign from the The Gruyere Cycling Tour.
Lac Léman Cycling Tour
Lac Léman was created for cyclists to tour around. After a hard ride in the mountains there is nothing better than touring around a picturesque lake with 360 views of the French and Swiss Alps.
Our ride started along the quiet cycle paths that flank the Rhône river, pausing to check out the end of the Alpine section of the Rhône  as it empties into Lac Léman.
After touring along the southern shores of the lake and crossing the border into France we crossed Lac Léman from the French spa town of Evian-Les-Bains, home to Evian mineral water. The ferry trip offers amazing views of the Alps and also the UNESCO World Heritage Lavaux Vineyards.
After stopping off at the Olympic Museum in Lausanne we took on the stunning climb of Balcon du Léman, rising high above the lake through terraced vineyards that date back to the 11th Century.
If you would like to ride around Lake Geneva then check out our Cyclotour du Léman cycling holiday that features the 180km Cyclotour du Léman.
Stunning Swiss Sportives
Our sportive holidays feature local Swiss sportives that have the ride quality of mega sportives like the Marmotte or Etape du Tour, but you won't get back to your desk only for your colleague to say "yep I've done that".
Take on the challenge of doing something different;