The Gran Fondo San Gottardo is an epic sportive set high up in the Swiss Alps with three huge mountain passes to tackle over the 110km parcours and over 4,200m of climbing in total.
Cycling Weekly Ride the Granfondo Gottardo
We had the pleasure of hosting Cycling Weekly journalist Hannah Reynolds as we took on the Granfondo Gottardo 2012 here in Switzerland.
Col du St. Gothard 2,106m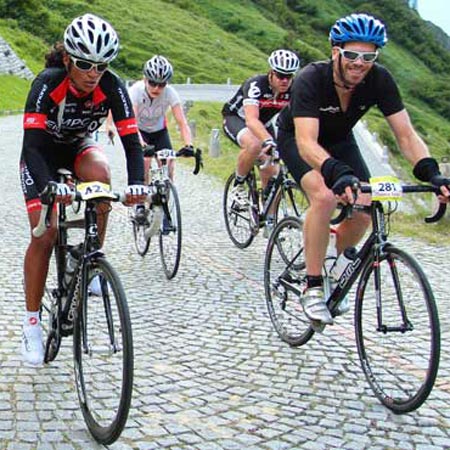 At 2,106m high the St. Gothard Pass is an epic climb. Throw in some cobbled sections and you have the "Paris Roubaix des Alpes" as the Gran Fondo San Gottardo organizers proudly call it! The course rolls upwards from the start and kicking off a sportive with a 19km climb at an average gradient of over 5% is a good lesson in pacing your efforts!
The mixture of the cobbled sections followed by headwinds made this a challenging climb. For the first half cobbled sections are interspersed with tarmac on the hairpin corners, giving some light relief for both hands and legs. As we ascended the Col du St. Gothard through countless hair pin turns it seemed as though every other stretch of road was into a headwind. I found a reasonably high tempo rhythm worked best, it was the type of climb that was best just to get stuck right into it!
[divider_flat]
Col de la Furka 2,429m
Just after you have swooped down the stunning descent off the Passo del San Gottardo a 17km climb at over 6% awaits! The climb up to the Col de la Furka is impressive and the lure of bagging a Col at 2,429m is enough motivation to keep the legs spinning.
For me this climb was at a really nice gradient, pretty steady all the way up so you could find a tempo and stick to it in a similar gear and riding position. The road quickly takes you high up above a stunning Alpine valley and at the top the feed station was framed by dramatic 4000m+ snow capped peaks.
The descent from the Col de la Furka was fast and stunning. I actually thought it was one of the best descents I'd ever done and that it could't be beaten. I was wrong.
Col de la Nufenen 2,478m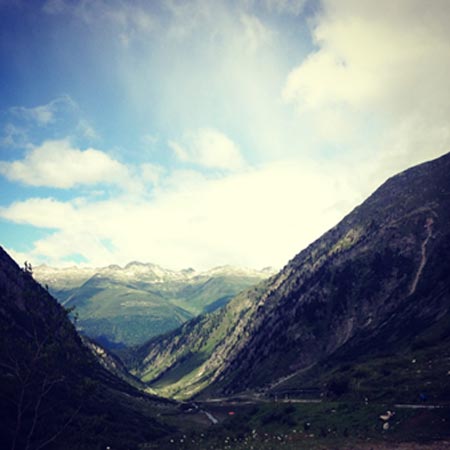 What? We haven't reached the highest point of the race yet? The Col de la Nufenen tops out at a literally breath taking 2,478m (over 8,000ft). This final climb is the punchiest of the lot at 14km averaging over 8% with sections north of 20% – a real test of your training!
My average speed plummeted on the Col de la Nufenen with the constantly changing gradient really taking it's toll. We had driven over the Col de la Nufenen the day before and noticed it had a very steep start, a gentler middle and a really tough finale. Well it didn't feel like that to climb! I was also sure we'd seen a GPM sign at 4km to go and 2km to go. So when no 4km to go sign appeared and the summit still wasn't visible I actually thought the climb would never end.
Whilst there was a very high standard of cyclists at this sportive it was still very friendly, on the Nufenen however everyone had stopped talking, no one was able to work at a pace other than their own and the road resembled a slowly moving escalator of cyclists!
Finally the Col topped out with stunning 360 views of the Swiss Alps an ample reward. After a hearty feed of nuts, apricots, coke and salty warm soup the 28.5km descent awaited.
What a descent! Everything from hairpin turns to long flowing sections and a stunning straight line through beautiful pine forests. At the bottom of the descent I picked up a great group and we worked together for the final 10km into the finish driving a really high pace to get in just under 6 hours about a third of the way down the field.
Granfondo Gottardo 2012
Cycling Weekly Sportive Report
Cycling Weekly journalist Hannah Reynolds blitzed the descents and had a thoroughly enjoyable ride, read her Granfondo Gottardo Cycling Weekly Sportive Report.
[divider_flat]
Ride the Granfondo Gottardo with Brevet
You can ride the Paris-Roubaix of the Alps too on our Granfondo Gottardo cycling holiday which includes;
6 days of riding
Ride the Granfondo Gottardo
Cycle guiding and vehicle support
Nutritional bars and gels on the road
5 nights full board accommodation
12 week sportive training plan to get you fit
Granfondo Gottardo sportive entrance fee included