Sa Calobra Serpent Summit Signs off Season
Our final cycling tour of the year was a bespoke private trip for clients in Mallorca and the highlight was scoring an ascent of Sa Calobra on unusually quiet Mallorcan roads.
Our bespoke cycling trip was for riders completely new to road cycling, as our guests were semi pro sportsmen already we figured that cycling in Mallorca would be an appropriate baptism of fire!
If you are a Team Sky fan then you may recognize the haunting images of Sa Calobra from Team Sky's 2012 Mallorcan training camps where Bradley Wiggins and the climbing group started their Tour de France preparation.
Cycling in Mallorca
Mallorca is one of cycling's "must do" destinations and it certainly has invested in cycle lanes and signposting that make riders feel welcome. Add the numerous quality bike hire shops and the choice of riding in the mountains or the coastal flats and you can see why it's a favourite for early season training camps.
The key word there is early. If you plan on visiting Mallorca to take on Sa Calobra then you need to go in the early part or late part of the season. Our trip at the end of summer was just on the shoulder of the tourist season. We planned all our rides to leave very early in the morning to get ahead of the seemingly endless tourist coaches that ply the narrow northern coast roads by mid morning and all through the afternoon. I can't imagine how busy the roads must be in the height of the season!
Sa Calobra forms the backdrop of the video below where the Team Sky riders set out their goals for 2012 with telling accuracy in hindsight.
Sa Calobra
The early bird catches the worm. Or the serpent in this case. One of the joys of living in Switzerland is cycling quiet roads through summer and scoring powder turns in winter. Scoring an empty deserted Sa Calobra is the equivalent to being first on the ski lift on a powder day.
Setting off before dawn from our luxury villa outside Pollenca, we rode out towards the northern coast for our date with Sa Calobra. One of the great things about this climb is the journey to get there. Shortly after setting off we got into the Coll de Femenia a 7.7km climb at 5.5% that takes you from sea level to 515m. Whilst not an Alpine Col it's a useful climb to get the heart pumping and delivers you onto the rolling terrain that slowly winds along the coast to the Sa Calobra turn off.
Here you have a choice to take a quick breather for a coke, coffee or freshly squeezed orange juice from the roadside tourist shack or to crack on with your first date with the serpent. Don't be mislead by this sign though! After a despairingly short descent you'll be climbing again to reach the top of Sa Calobra proper, marked by the sign for the Coll des Reis at 682m that is cut through the rock framing impressive views of the Nus de sa Corbata Sa Calobra (Tie Knot).
The descent down to the tiny cove of Sa Calobra is like a roller-coaster ride dreamt up by a cycling fan. There is every type of turn from plunging steep hairpins to sweeping left and rights that let you get the speed right up to "scare" speed. The cove of Sa Calobra that gives the climb of Coll des Reis it's more common name arrives all too quick.
If you have left early to avoid the coaches then the tourist cafes at the bottom will just be opening up and you might be tempted by a coffee and cake to fuel the climb back up. We turned around after taking a few snaps to be greeted by the news that a 9.5km climb at 7% awaited.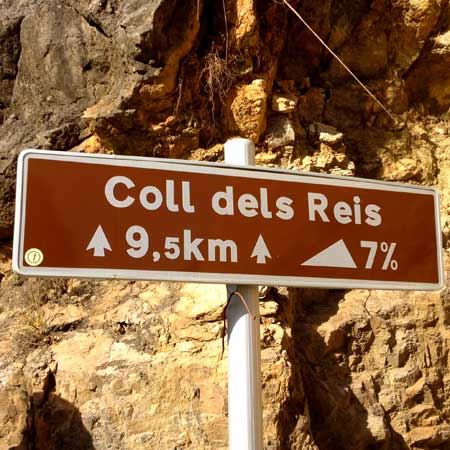 Whilst these signs always need to be taken with a pinch of salt, this is certainly a tough climb. What it lacks in length and height it makes up for in devilishly steep sections. Throughout the climb the scenery changes from stunning pine forest to narrow gorges and barren windswept valleys. After a few kilometers the constant twists and turns of the road are quite disorientating and as your eye searches upward for some clues for the next few turns it's genuinely hard to make out where the road is going!
Finally after grinding through some sections that rear up well north of 10% the glorious sight of the knotted tie appears from nowhere. You know you're near the top but not quite there and in fact that final push is deceptively hard now that the lactic is building up in your legs.
Sa Calobra deserves it's infamous reputation. It's a strikingly beautiful ride and is testament to the amazing skills of Antonio Paretti the engineer who designed the road in 1932.
If you happen to be in Mallorca for a family holiday and want to sneak off for a date with Sa Calobra then I highly recommend it – just be sure to take your winter lights with you so that you can set off before dawn! We were back at the villa just as non cycling partners were laying out the towels next to the pool to sunbath, perfect timing!
Season Done
Our Mallorcan jaunt marked the end of a great season for us and we're really looking forward to 2013.
Our cycling holidays calendar is out now; all of our cycling holidays include a local Swiss cycling sportives and we also have guaranteed entry to the Maratona dles Dolomites.
If you are looking for a bespoke cycling holiday that can be handled in the strictest of confidentiality then don't hesitate to get in touch. Whether you're an experienced group of riders or completely new to the sport we can make a custom bespoke cycling itinerary to suit your needs.
Sportive Training Plan
In training for a sportive? Use our free 12 week Sportive Training Plan to get you in the best possible shape for your sportive challenge.
Simply fill the form below and we'll send you your free training plan:
[hr]
Photo credit: The Team Sky photo is from Michael Barry's excellent photo essay on Sa Calobra.