If you are looking for turbo training tips you are already one step closer to getting fitter, losing weight and attaining your cycling goals.
With these turbo trainer tips you will be focussed, fitter and on form when Spring arrives.
What is Turbo Training?
Turbo training or indoor cycling training is a great way of keeping fit when the weather is bad. If you commit to training over winter on a turbo trainer your mates will be surprised when you drop them on your first Spring training ride.
Turbo trainers convert your existing bike (or an old bike you do not use much) into an indoor cycling machine that increases resistance as you increase effort, you can even simulate climbing to help you get ready for riding in an Alpine sportive like the Maratona dles Dolomites or Alpenbrevet.
Turbo Training Equipment
You need a turbo trainer and these turbo trainer reviews are helpful
Place a training mat under your trainer and front wheel, it will dampen the wobbling
Use an adjustable riser block to simulate hill climbing
A Vittoria home trainer tire for your rear wheel will last longer and be quieter too
A fan will help you keep cool and you'll want an iPad or laptop to play training videos on
Turbo Training Tips
Every session should have a fitness or technique goal
Join the Brevet Cycling Club on Strava and share you turbo training suffering! By making solo training social you will be more likely to do it
SET BIG SCARY TARGETS If you are not already booked on a Brevet cycling holiday then what are you waiting for?
Set up water bottles, a towel and some nutrition on a stool or chair next to your bike
Finally do a good deed before you lock yourself away on your turbo trainer, wash the dishes, clean the car – anything to get you some brownie points with your significant others
Sufferfest Turbo Training Videos
Trouble is if we are honest there is a problem with indoor cycling training: Turbo Trainer Boredom Syndrome (TTBS). One of the best turbo training tips is to get some entertainment involved!
Our friends at The Sufferfest have the cure for TTBS. The Sufferfest produce indoor cycling training videos with officially licensed race footage that are designed to make the time fly by on your turbo as you compete for the glory of the Sufferlandrian Nation:
Buy your turbo training videos online today at The Sufferfest and take advantage of our exclusive discount by using the coupon code "CHSUFFERS"
Bike Torture Chamber Tips
If you have a turbo trainer permanently set up for winter you will spend more time on it if you take the time to do a little decorating! Here's some tips for your Bike Torture Chamber:
Get inspiration from the The Sufferfest Bike Torture Chamber gallery
Order a stunning cycling wallpaper from Drops
What are you waiting for? You've got your turbo training tips, now it is time to get on that turbo trainer!
Sportive Training Plan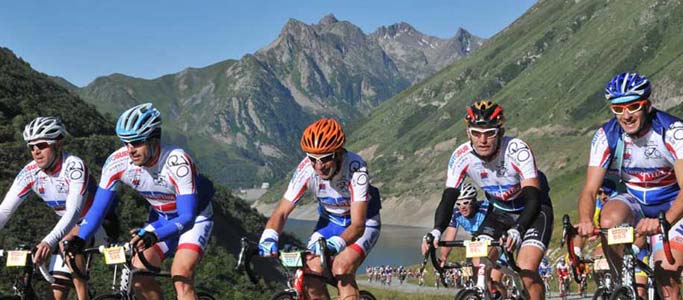 Are you in training for a sportive? Use our free 12 week Sportive Training Plan to get you in the best possible shape for your sportive challenge. Simply fill the form below and we'll send you your free training plan:

[hr]
Credits: Video courtesy of our Partners The Sufferfest and turbo trainer
by Elite