Try these smoothie recipes for cyclists as we continue our Cycling Nutrition Tips series with thanks to Team Sky Head Chef Søren Kristiansen and Nigel Mitchell, Head of Nutrition at Team Sky
Making smoothies as a pre or post workout nutritional supplement is a great way to turbo charge your cycling training plan.
Team Sky Nutrition Series – Smoothie Recipes for Cyclists
Team Sky Smoothie Recipe
Smoothie recipes for cyclists: Mixed fruit smoothie with a shot of seeds for added brownie points
Ingredients
Strawberries
Blueberries
Apples
Mango
Lemon peel
Banana
Cows milk or rice milk if lactose intolerant
Seeds: Pumpkin, flax, goji berries
Cooking Method
Peel and chop the fruit and place in a hand blender or smoothie maker
Add some lemon zest
Add milk
Blend until you reach your preferred consistency and serve a medium sized glass for each rider!
Nutritional benefits
Smoothies are great for cyclists because by mixing different fruits and seeds you can get a range of vitamins, minerals, protein and fats into your regular diet.
Rice Milk:
Chef Søren Kristiansen uses rice milk because some riders get upper respiratory congestion and some have lactose intolerance. Respiratory efficiency and gut health is very important when you are taking on large rides on a Grand Tour, preparing for a sportive or taking on a multi day cycling holiday.
Lactose intolerance can also increase during times of stress so if you think you might be showing signs of lactose intolerance then rice milk is worth a try.
Fruit and Seeds:
Apples are a great source of soluble fibre and so will keep you fuelled up for longer and less reliant on sugary snacks, the vitamin C and antioxidants will help keep you healthy
Mangos are juicy, tasty multivitamin alternatives packing in vitamins A, B6, C and E as well as potassium and soluble fibre to improve gut health
Blueberries and strawberries are high in antioxidants that keep us health by fighting disease-inducing free radicals in our body
Lemon peel can aid digestion by helping to reduce gas and cramping in the digestive system
Bananas are high in potassium, which is vital for muscle contraction one banana delivers your 4mg of potassium that you need every day
Seeds are high in fiber, vitamin E, monounsaturated fats, protein, iron ,folic acid and zinc
Goji berries contain all essential amino acids, have the highest concentration of protein of any fruit and are loaded with vitamin C, calcium, zinc, selenium and a whopping 15 times the amount of iron found in spinach
Try out this great smoothie for cycling and share your recipes and pictures with us on Facebook or Twitter #smoothiesforcyclists
Team Sky Nutrition Series
Looking to loose weight and gain power? Eat and hydrate smarter with our top Cycling Nutrition Tips from Team Sky:
Sportive Training Plan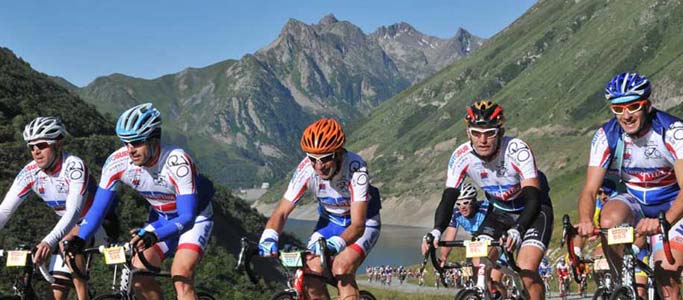 Are you in training for a sportive? Use our free 12 week Sportive Training Plan to get you in the best possible shape for your sportive challenge. Simply fill the form below and we'll send you your free training plan:


[hr]
Photo Credit: Follow @TeamSkyChef for inspirational recipe ideas for cyclists