Swiss Col conquerors Alain and Lillie acted on our tip off to ride up the Col de la Croix this weekend before the official opening. The Col de la Croix will be the feature climb in the 2013 Tour de Romandie with the riders climbing this Hors Catégorie Swiss classic from both sides.
The early birds (and some of the strongest riders in the region) were rewarded with epic views and took some amazing shots.
Many thanks to Alain and Lillie for allowing us to share these amazing shots. To see the whole gallery and for more amazing Swiss cycling photography follow Alain on Flickr or Twitter or Tumblr.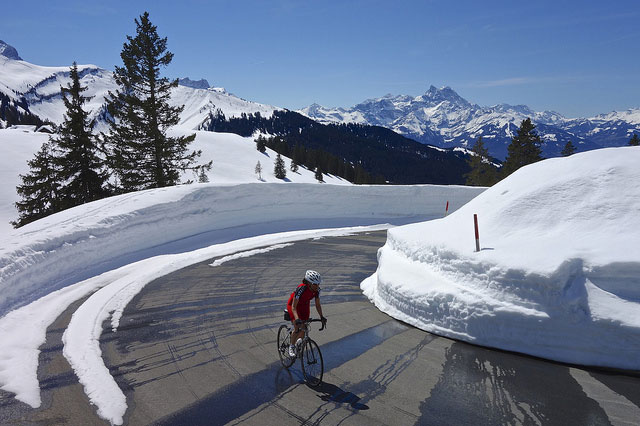 2013 Tour de Romandie Queen Stage
Check out the race report as our guests rode the snow affected Queen Stage of the 2013 Tour de Romandie.
Cycling Holidays in Switzerland
If you'd like to experience what it is like to Holiday like a Pro here in Switzerland then checkout out our cycling holidays calendar
You can keep up to date with our holiday news and training tips by subscribing to our monthly newsletter or by following us on Twitter or Facebook.