Learning how to ride in a group and using pace lines is a key skill to learn as you develop as a cyclist. Being able to ride safely in group opens up the door to longer rides with your local cycling club and can help you to feel more confident in your safety in a mass participation ride or sportive.
8 Tips For How To Ride In A Group
Following these simple tips will help you stay safe and do your fair share in the group:
Tip 1: Take your turn; No one likes a free loader; make sure you take your turn at the front, be a "good wheel to follow" i.e. don't force an uncomfortable pace and don't deviate too much from the "turn" time

that the group has naturally established, it will upset the rhythm of other riders

Tip 2: Keep pedaling; Freewheeling signals that you might be slowing down (like the brake light on a car)
Tip 3: Be your own back up; Bring sufficient supplies of water, food, suncream, spare layers for the likely weather and spare inner tubes and basic tools
Tip 4: Hold your line; When cornering hold your line and think about the safety of those around you, follow the adage of "look first, move second"
Group Riding Etiquette
These tips come from former pro rider and author Michael Barry who wrote a beautiful piece on riding in the group.
Tip 5: Ride in two columns; The group should form two lines, riding directly behind the wheel in front and alongside the rider next to you, stay compact to give the maximum benefit to the riders behind
Tip 6: Easy pace in traffic; Keep the pace slow and safe in towns and heavy traffic and only increase the pace when out on the open roads
Tip 7: Make it easy for drivers; By staying two a breast and close to the curb the line of cyclists is shorter and more compact making it easier and safer for motorists to pass
Tip 8: Work then peel; The pair on the front should drive a tempo that is comfortable to the group and will not result in anyone being dropped, when their turn is done peel off to the left and right respectively and rejoin at the end of the line, if someone is having a bad day,

shelter and support them in the group
Group Riding Technique
To help visualise the different ways of riding in a group check out these great videos from Cycling Secrets including some nice Drum 'n Bass tunes!
How To Ride In A Group: Rolling Turns
How To Ride In A Group: Social Turns, Echelons and Pace Lines
Get 25% Fitter by Riding 5% Smarter
One of the biggest benefits of learning how to ride in a group is that by sheltering behind other riders in a group or bunch you can save 25% of your energy, combine this with a structured training plan and you will be achieving your season goals in no time!
Sportive Training Plan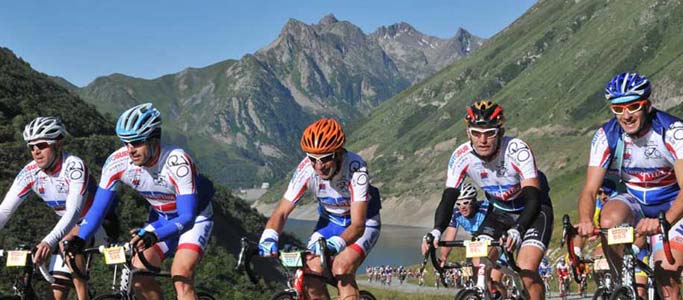 Are you in training for a sportive? Use our free 12 week Sportive Training Plan to get you in the best possible shape for your sportive challenge. Simply fill the form below and we'll send you your free training plan:

Photo Credits: The images are from the Maratona dles Dolomites and Cyclotour du Leman.
The Cyclotour du Leman is an 180km loop around Lake Geneva with rolling road closures and stunning scenery of mountains and vineyards that combine to make it one of the best cycling sportives in Switzerland, it features on our Cyclotour du Leman cycling holiday.
The Maratona dles Dolomites is a sell out sportive in Italy that attracts over 30,000 riders fighting for just 9,000 spaces. Brevet guests have guaranteed entry included in their Maratona dles Dolomites holiday.