Susten Pass 2,224m
The Susten Pass features on the first double page photo spread of Mountain Higher, photographer Pete Goding captured the wild nature of Switzerland's Central Alps with this stunning image of the Susten Pass.
Would you like to test yourself on the Susten Pass? You can take on the Susten Pass in the Alpenbrevet sportive or on our epic Randonnée Alpes Suisse.
Susten Pass Profile
Susten Pass Stats:
Category: Hors Catégorie
Starting elevation: 916 m
Final elevation: 2,224 m
Length of ascent: 17.4 km
Elevation gain: 1,308 m
Average gradient: 7.4%
Max. gradient: 10%
Alpenbrevet Sportive Fact File:
Final Climb of the Alpenbrevet Silver, Gold and Platinum course
Feed station on summit
Cut off time: 19:45
In the Alpenbrevet you will climb the Susten Pass from the Wassen side climbing 1,308m over 17.4km at an average gradient of 7.4%. But the climb is worth the effort:
It's easily the best and most spectacular descent I've ever ridden
Henry Catchpole, Cyclist Magazine
With only a few sections above 10% the Susten Pass does feel consistent to climb. Though with the lactic acid building the final 7km are steeper and more exposed than the preceding 10km and in the late afternoon wind can be a factor – just hope it's a tailwind!
Climbing the Susten Pass
What is it like to climb the Susten Pass?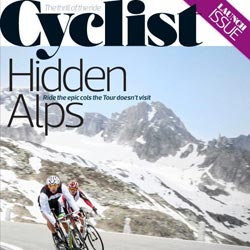 The climb up the Susten Pass is 18km of gradual torture. Unlike the Grimsel, which, although longer, somehow always hid the summit from view so that you lived in hope you were nearly at the top, you can clearly see the Susten stretching out endlessly in front of you. There are just two hairpins for relief and they only come near the end.
Henry Catchpole, Cyclist Magazine
The road stretched out for mile after mile in front of me, cut along the side of the mountain and appearing to never end. It was like the march of the cycling dead up this road. It had been every man and woman for themselves since the Lukmanier Pass. I had no idea where the road ended, all I could see in front of me was a big mountain peak with snow down it's side, surely I am not going up there?
Find out if Brevet Guest Neill made it up the Susten Pass as he shares his Alpenbrevet Platin Route experience
Descending the Susten Pass
What is it like to descend the Susten Pass?
Probably the most enjoyable descent of my life – 20km of impeccable road surface, intermittent hairpin turns, straight open sections for picking up speed and wide, soft, no-brake turns.
Heidi Swift, Peloton Magazine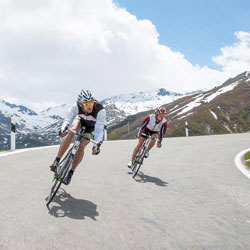 Within the first few corners of the descent I know that the climb was absolutely worthwhile. This is cycling nirvana…if Sony were creating a digital fantasy world through which to descend then it would look like this.
Henry Catchpole, Cyclist Magazine
Climbing the Susten Pass on a Brevet Cycling Holiday
Guests on our Alpenbrevet sportive holiday or on our epic Randonnée Alpes Suisse benefit from our first hand knowledge of cycling in Switzerland, including our tactics for you to get over the Susten Pass when you already have hundreds of kilometres in your legs!
If you would like to holiday like a Pro with knowledgable and friendly guides, Brevet Team Car support and guaranteed entry to the Alpenbrevet then book your place on the Alpenbrevet  starting line today.
Still need convincing? Check out this amazing image of the Susten Pass by professional cycling photographer Dan Patitucci. You could be riding here!
Susten Pass Strava Segment
Are you on Strava? Brevet guests join the Brevet Cycling Club on Strava and benefit from the peer support of a fantastic community of riders training with a common goal.

Cycling Climbs in Switzerland
Take a closer look at the climbs you will face if you join us on a Brevet cycling holiday in Switzerland:
Photo Credits: Susten Pass by Pete Goding as featured in Mountain Higher. "Hidden Alps" Cyclist Magazine front cover by Paul Calver. Susten Pass by Dan Patitucci on Instagram.