Here are some of the top questions we get asked and the advice that we give in the final weeks before your Alpine Cycling Adventure with Brevet starts:
Q: How should I pace myself up the climbs?
A: It is key to understand what your lactate threshold is and to try and ride below that level for the majority of the climb. Completing a simple cycling threshold test will allow you to ride with knowledge if when you are going too deep.
Q: Yes but seriously how do I get up those hills!
A: Check out these cycling climbing training tips for advice on technique and drills that will help your climbing.
Q: Would losing some weight help?
A: Losing fat but developing power will definitely help on the climbs but you need to loose weight carefully and slowly. Following the tips in Racing Weight and eating healthily from a cycling specific recipe book like the Feed Zone is the recipe for success.
Q: I'm not a confident descender – any tips for descending?
A: Many people over look that you can and should practice your descending skills. There is a technique to it and you can improve, feel less worried and recover better before the next climb by learning how to descend on a bike.
Q: Any last minute sportive training and preparation tips?
A: Sure! Check out these tips on preparing for an Alpine sportive.
Q: Should I get a bike fit?
A: Changing your riding position too close to an event isn't a great idea but if you are riding with discomfort or have some time for the new position to bed in then getting a bike fit is a great idea.
Q: What should I pack?
A: There is an art to packing light yet ensuring that you have enough layers and kit options. This cycling holiday packing list is a good place to start.
Q: How do I pack my bike box?
A: It's not that hard when you know how. Grab yourself a beer, put some music on and follow these bike box packing tips.
More questions?
Check out our FAQ and if you have a question that is not answered get in touch!
Sportive Training Plan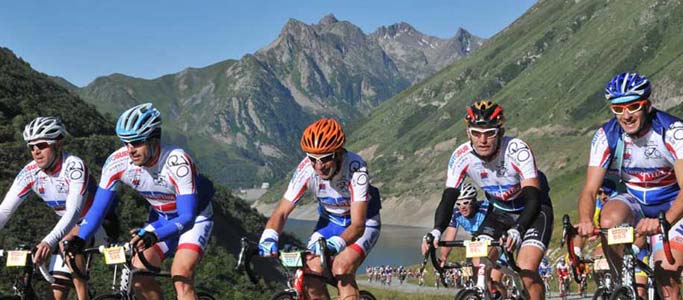 Use our free 12 week Sportive Training Plan to get you in the best possible shape for your sportive challenge. Simply fill the form below and we'll send you your free training plan: