We kicked off our 2013 Tour de Romandie holiday chasing the peloton through stunning Swiss scenery in bright sunshine.
After watching the breakaway contest the first GPM points of the day we raced through the Lavaux Vineyards to the Tour de Romandie Stage 2 finish in Renens, West of Lausanne. For more pictures check out our Tour de Romandie Stage 2 gallery.
Watching and riding the Tour de Romandie live gives you access to some incredible moments.
We raced through the finish line just moments before the pro peloton!
When it comes to breathtaking scenery Tour de Romandie is spoilt for choice. We broke away from the race for a day to climb the Col des Mosses, a Cat 1 climb that would feature early on in the Queen Stage. En route to the Col des Mosses is the Château de Rougemont.
With the weather turning we took advantage of our flexible location in the Swiss Alps to take on a tour of Lac Léman finsihing with a ride through the Rhône Valley that is reminiscent of Paris-Roubaix!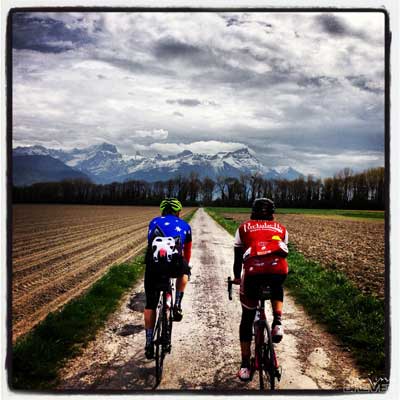 After days of riding in the sunshine the Tour de Romandie Queen Stage arrived with forecasts of snow at 1,800m threatening to make the Col de la Croix (1,778m) impassable. Whilst the pro peloton debated whether the stage would be changed the intrepid Brevet team set out in "epic" conditions to take on the mythical Col de la Croix (1,778m).
Splitting into two teams we took advantage of the Brevet Team Car support that enabled every rider to get the most out of themselves in freezing conditions!
All our riders successfully climbed the Col de la Croix and some climbed it twice – more that the peloton!
For more amazing pictures checkout our Facebook album for the Tour de Romandie Queen Stage
The Must Win Tour de France Prep Race
The Tour de Romandie winner has now gone on to win Le Tour for the last three years:
2011: Cadel Evans
2012: Bradley Wiggins
2013: Chris Froome!
Brevet Guest Holiday Reviews
Our cycling holidays are awesome but don't just take our word for it, check out these in depth reviews from our guests:
Brevet Cycling Holidays
Join us for a cycling holiday in the Swiss Alps or Italian Dolomites:
[threecol_one]
[/threecol_one]
[threecol_one]
[/threecol_one]
[threecol_one_last]
[/threecol_one_last]
[threecol_one]
[/threecol_one]
[threecol_one]
[/threecol_one]
[threecol_one_last]
[/threecol_one_last]
[divider_flat]