La Marmotte 2014
La Marmotte GranFondo is the original cycling sportive that every rider should have on thier bucket list. The route covers 174km of alpine cycling featuring the epic Col du Glandon and Col du Galibier. These mythical cols are among the most feared Tour de France mountain passes.
After an epic 5,180m of climbing, La Marmotte finishes with the tortuos ascent of 21 hairpin bends to Alpe d'Huez (1,880m), scene of many literally breathtaking finishes in Le Tour.
La Marmotte Event Details
Date: Saturday 5th July 2014
Distance: 174km
Climbing: 5,180m
Established since: 1982
Start: Bourg d'Oisans, France
Finish:  L'Alpe d'Huez, France
Nearest Airport: Geneva International Airport
Accommodation: Bourg d'Oisans tourism office
La Marmotte Route Recce
La Marmotte Course
The route features a who's who of the classic Tour de France alpine climbs and the scenery between climbs is not so bad either in the Savoie and Hautes-Alpes regions of France.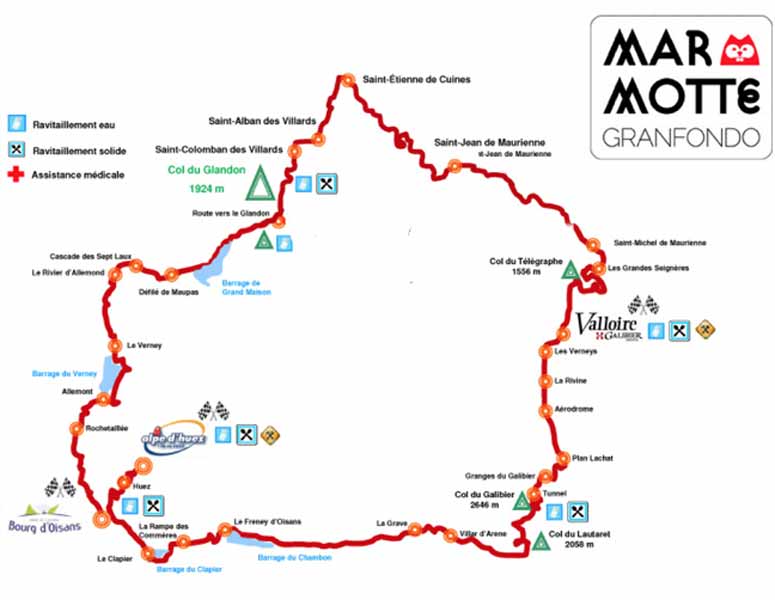 La Marmotte Course Profile
The following classic cols feature in La Marmotte:
36km – Col du Glandon (1,924m)
92km – Col du Télégraphe (1,566m)
115km – Col du Galibier (2,645m)
122km – Col du Lautaret (2,058m)
174km  – Alpe d'Huez (1,880m)
Col du Galibier 3D Tour
This Google 3D ascent of the Col du Galibier produced by Cycling in the Alps gives a great taster for riders taking on La Marmotte this summer:

Grimpée de L'Alpe
If La Marmotte hasn't turned your legs to lead and you are keen for another ascent of Alpe D'Huez then you can take on "Grimpée de L'Alpe", a timed 13km climb up the 1100m from Bourg d'Oisans to L'Alpe d'Huez is held on the Sunday, the day after La Marmotte.
La Marmotte Entry
La Marmotte online registration opens in December and always sells out very fast.
Too late already? Check out the Best Sportives in Europe and find a challenge that motivates you!
Training For La Marmotte
La Marmotte represents one of the pinnacles of the European sportive calendar and for many riders it will be the ultimate cycling challenge, As one of the toughest Gran Fondo's out there, training for La Marmotte is essential, especially if you want to leave with happy memories that block out the pain climbing the final 21 hairpin bends to Alpe d'Huez.
Arrive on the start line with confidence by using our FREE Marmotte Training Plan
For many cyclists lucky enough to get a place in La Marmotte, training will start in the New Year after Christmas. Ideally January and February should be spent maintaining bike fitness with easy base period miles, using an indoor turbo trainer can help keep things ticking over during the cold winter months. As spring arrives following a progressive twelve week sportive training plan will build the stamina needed to take on some of the mightiest cols from the Tour de France.
The most difficult aspect training for La Marmotte is preparing for climbing in the Alps. It's hard to replicate Alpine cycling if you don't live in the Alps and haven't cycled up (and down) Alpine Cols before. A sportive training holiday with a group of friends can be a great way to train for a challenging sportive like La Marmotte.
Marmotte Training Tips
La Marmotte Sportive Training Camps
If you are training for La Marmotte then join like minded riders on a cycling training camp in the Swiss Alps or Italian Dolomites to prepare for your best summer of cycling ever.

La Marmotte Sportive Training Plan
Are you in training for La Marmotte? Use our free 12 week Marmotte Training Plan to get you in the best possible shape for La Marmotte. Simply fill the form below and we'll send you your free sportive training plan: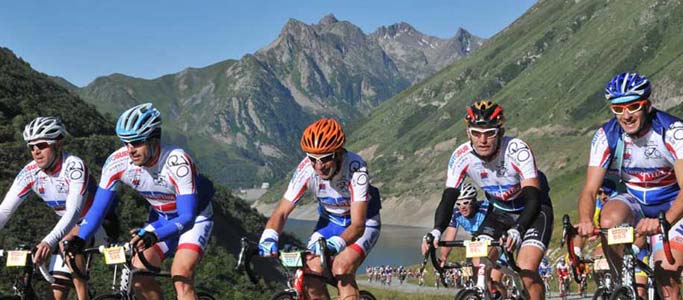 Useful websites for La Marmotte
Still searching for a sportive? Then check out our sportive calendar for the best handpicked cycling events in Europe.