Cross Training for Cyclists
Cross training for cyclists is a something of a taboo subject for some riders, the thought of doing anything but riding your bike to get fitter can be a new cycling training concept for some.
We asked expert soft tissue therapist Lydia Durkin to talk us through why cross training is important for cyclists.
Over to you Lydia.
Cross Training for Cyclists – Why do it?
There are three big reasons why cross training for cycling is a great idea:
Maintaining fitness
Increasing strength
Staying sharp over winter
With the first signs of snow on the ground, the idea of a cold off-season ride may not be on the top of your training list. If you are considering cross training through harsher conditions here are a few tips to focus your sessions and make sure you're getting the most out of your winter.
Cross Training for Cyclists Tip 1: Maintain Cadence
Indoor training is great to avoid the elements. If you have access to a turbo trainer, Watt Bike or velodrome these are obvious ways to maintain your cadence during the off-season.
Cycling Cross Training Tips:
Combine short, faster indoor rides with endurance orientated weight training, this takes the stress off your legs whilst maintaining your speed and giving you a chance to strengthen the muscles which may get ignored on longer rides
The velodrome is a great place to test your handling, speed and race position over the winter
Cross Training for Cyclists Tip 2: Work Cycling Muscles
Cross training for cycling needs to compliment cycling kinetics, otherwise what's the point?
Roller/ice/speed-skating and cross country skiing are all progressive endurance sports that work the same muscles as cycling.
Cycling Cross Training Tips:
Other complimentary activities include:
Weight training is good for isolating muscle areas and building strength through specific movement
Circuit training can improve cardio in relatively short sessions
Running is great for endurance; build up slowly and watch your knees!
Swimming allows for recovery by resting cycling muscles, supports the lower back whilst offering a cardiovascular work-out in a different range of motion
Rowing is excellent endurance training and (with correct technique) builds leg and back strength
Cross Training for Cyclists Tip 3: Muscle Balance = Injury Prevention
It's important to maintain muscle balance. Cyclists are notorious for their overdeveloped quadriceps, short hamstrings and relatively weak upper body strength. It's therefore no surprise that common injuries include knee problems, lower back and neck pain.
By the end of the season you may have found yourself 'training through' or picking up annoying injuries. Changing activity will give you a chance to stay fit whilst giving those old niggles time to heal.
Cycling Cross Training Tips:
Remember antagonist (opposing) muscles need training too. Work full range movements to keep these in good condition and prevent injury
Cycling recovery periods are when you make fitness gains!
Cross Training for Cyclists Tip 4: Get out of the Groove
Off-season training should challenge your body and mind. New activities may be initially hard to get going, but different skill sets will keep your mind alert and concentration sharp, on and off the bike.
Just had the most amazing mountain bike ride of my life, organized by @blick, with a proper cool bunch of people. pic.twitter.com/XSQLWaUIQL

— Mark Cavendish (@MarkCavendish) November 24, 2013
Cross Training for Cyclists Tip 5: Maintain Aerobic Power
Aerobic training maintains your base power. As mentioned above, cross-country skiing is excellent for this, running too. Your heart rate shouldn't spike into your 'anaerobic zone' for longer than one minute at a time.
Cycling Cross Training Tips:
If you're able to continue a conversation whilst exercising, you're in your 'aerobic zone
Gradually build into longer sessions to avoid injury
Cross Training for Cyclists Tip 6: Core Strength
Core strength is essential for generating power on the bike. Yoga and Pilates help to increase flexibility and strengthen core muscles groups, stomach and back muscles.
Cycling Cross Training Tips:
Cross Training for Cyclists Tip 7: Remember to Stretch
Calves, glutes, IT band and hamstrings are all prone to tighten during intense cycling or cross training.
Cycling Cross Training Tips:
Calculate stretching into your session times. Increased flexibility will develop a wider range of motion and therefore power on the bike.
Stretching circulates blood into your muscles, helping to reduce DOMs (Delayed Onset Muscle Soreness) and prevent injury.
Cross Training for Cyclists: The Benefits
There is some debate that amateur athletes gain more from cross training compared to elite athletes. However there's little argument that variety encourages motivation,muscle balance and efficient training. Activities which prioritise cycling muscles are most effective, no surprise there. Activities which help recovery (swimming) and prevent injury (stretching) are equally important.
About the Author
Lydia Durkin is a qualified sports massage and remedial therapist and owner of Durkin SMRT and Lydia currently consults for Pure Sports Medicine in London.
Lydia was Brevet's soigneur at the Alpenbrevet in 2013 where her post race massages were very popular in the Brevet Club House!
Sportive Training Plan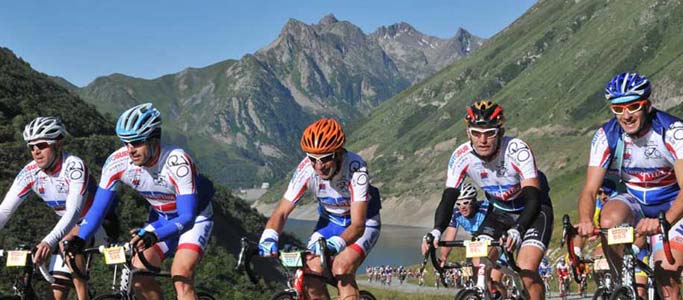 Are you in training for a sportive? Use our free 12 week Sportive Training Plan to get you in the best possible shape for your sportive challenge. Simply fill the form below and we'll send you your free training plan: