How to Book and Pay for a Brevet Holiday
Step 1 Go to The Maratona Holiday page
Select your holiday from the Maratona Cycling Holiday page.
Step 2 Select Your Options
Select your Room Type and Payment Type. All holidays require a deposit to book your holiday.
When you have selected your Room Type and Payment Type options the ADD TO CART button will appear:
Step 3 Verify Your Booking
Check you have selected the correct options and press PROCEED TO CHECKOUT. If you have a discount coupon you can apply it here.
Step 4 Contact Details and Choose Payment Method
Enter all your contact details in and any notes about your booing for example whether you are booking in a group and have a room sharing preference.
You can choose to pay by Bank Transfer by selecting that option and pressing the PLACE ORDER button:
Choose Bank Transfer:
Bank Transfer Details:
If you choose to pay by Bank Transfer you will be redirected to a confirmation screen that includes all the bank details you need. These details will also be emailed to you.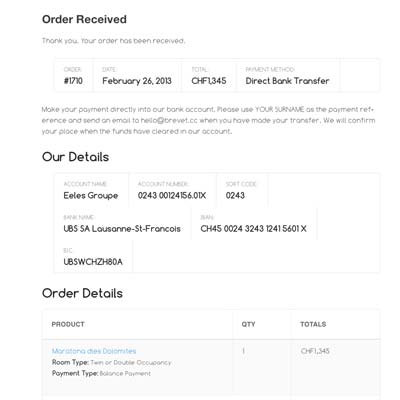 Once you have made your Bank Transfer send an email to hello@brevet.cc and as soon as the money hits our account we will confirm your order. All bank transfer costs are payable by the guest and the payment must be received by Brevet in full and in Swiss Francs (CHF).
Pay With PayPal Account or by Credit Card Through PayPal
You can pay securely online using your existing PayPal account or choose to use your Credit Card via PayPal. For both options you need to select PayPal: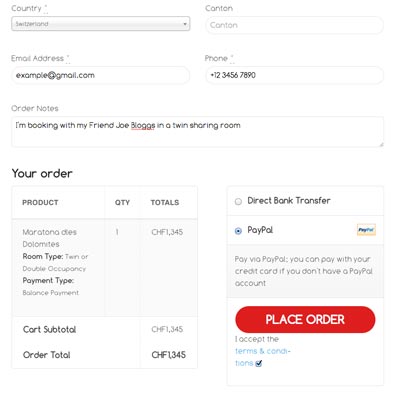 Don't forget to accept the Terms and Conditions.
Paying With Your PayPal Account
If you choose to pay with your PayPal account select that option as shown below:
Paying with Your Credit Card
If you don't want to use a PayPal account you can choose to pay by Credit Card via PayPal by choosing that option as shown below:
Your Booking Receipt
When you have completed your payment through PayPal using Credit Card or a PayPal account you will instantly receive a Booking Receipt from hello@brevet.cc that looks like this: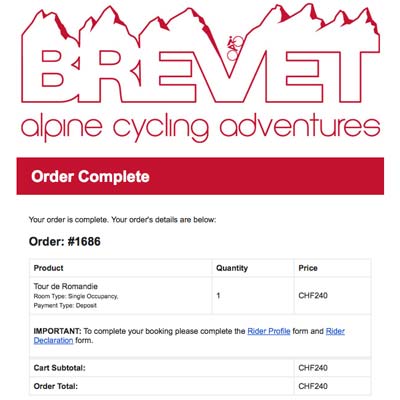 This email contains a link to the Booking Form which must be completed to confirm your booking.
Booking Form
To confirm your booking you must fill out the Booking Form:
If you have any questions at all please do get in touch.