Core exercises for cycling should be part of every cycling training plan, these five core exercises for cycling help increase cycling power.
Brevet and Technique Physio have teamed up to bring more tips on how to improve your cycling technique with these core exercises for cycling.
Over to you Mike:
Core Exercises for Cycling
After his breakthrough 2012 season Bradley Wiggins explained in an interview that he had been working on core exercises for cycling throughout the 2011-12 winter season, in an attempt to stabilise the bike and make his power output more efficient. If you watched his performance in the Olympic Road Race Time Trial you may have noticed his upper body hardly moves in comparison to his rivals. Working on core exercises for cycling enables more of the power that is generated by your legs to go into the pedals rather than being wasted on wobbling around.
What is Core Strength?
Core strength is a topic physiotherapists harp on about endlessly, but what are we talking about exactly? And what core exercises for cycling are there?
Core stability is the ability to control movement around ones trunk or midriff, good control in this area allows the muscles that power our limbs to work more effectively at their specific job of producing power. The core is supported by the abdominals, these can be broken into three key muscles: rectus abdominus, obliques and the tranverse abdominus. Each of these groups has a specific role but they work together to provide overall stability.
Core Exercises for Cycling
There are many different core exercises for cycling; from functional movement too more controlled Pilates. Our initial part of this series will focus on relatively static exercises that can be used to work the core effectively. As a warning to those with lower back problems, it may be worth consulting a physiotherapist before starting these core exercises for cycling.
Core Exercises for Cycling: Standard Crunch
The standard and twisting crunch work the rectus abdominus and the obliques
Lying on your back with legs bent and feet shoulder width apart
The standard crunch involves placing hands on thighs and sliding them up until they are touching the top of your knee
The movement is small to protect the lower back; this area should be kept in neutral or pressed into the floor so it does not over arch
Threes sets of 25-30 repetitions with 30-60 seconds rest between sets would be a good starting point
Although one of the easiest core exercises for cycling it must be done with good form to be effective – protect that lower back
Core Exercises for Cycling: Twisting Crunch
The twisting crunch involves taking one hand to the opposite knee and alternating hands
The same principles of keeping the lower back flat against the matt still apply
Core Exercises for Cycling: Dead Bugs
Dead bugs are relevant to cycling because they involve a similar cyclical action whilst having to stabilise the lower back
Keeping your lower back in a neutral position or pressed into a mat, go into the start position above
From here extend one leg out to 45 degrees whilst keeping the other leg at 90 degrees
Extend your leg over 2-3 seconds in controlled fashion and focus on your lower back so that it doesn't arch upwards
Your breathing should remain controlled
Now alternate legs in a controlled manner ensuring your back stays firm and your breathing remains controlled
Attempt three sets of 45-60 seconds
If you have any twinges or pain in your lower back stop the exercise and consult someone who will be able to give you appropriate coaching on the correct technique
Core Exercises for Cycling: Standard Plank
Planks are a great way to work on your static core strength, but they do require a relatively good level of fitness
The aim is to support your midriff between your elbows and feet
Attempt 3 sets of 45-60 seconds with the equivalent rest between sets
Core Exercises for Cycling: Side Plank
Side planks are great for the obliques
The aim is to support your body weight between an elbow and feet, this time on your side
Ensure you keep a straight back from in front and at the side
About the Author
Mike Aunger is director of Technique Physiotherapy and Sports Medicine, if you would like some advice on core exercises for cycling or any other support to help you perform better do not hesitate to get in touch.
[hr]
Cycling Training Camps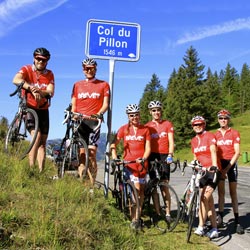 If you are committed to working on your core strength this winter then our cycling training camps are perfectly timed to help you reach your peak for sportives like La Marmote, Maratona dles Dolomites or Etape du Tour
The Cyclotour du Léman Cycling Training Camp includes three days of training rides in the Alps before taking on the Cyclotour du Léman, one of the most scenic cycling sportives in the world.
The Italian Dolomites Cycling Training Camp features six days of training rides in the Italian Dolomites on climbs used in the Maratona dles Dolomites and Giro d'Italia.
Sportive Training Plan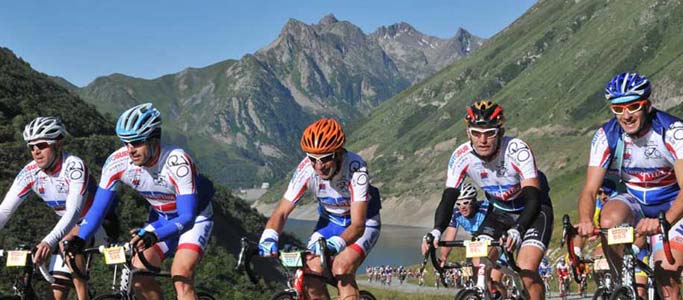 Are you in training for a sportive? Use our free 12 week Sportive Training Plan to get you in the best possible shape for your sportive challenge. Simply fill the form below and we'll send you your free training plan: